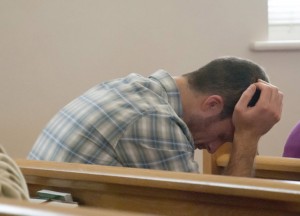 The mission of the prayer ministry at Doylestown Mennonite Church is to bring glory to God as we pray, motivate and teach others to pray, and to provide prayer opportunities for our church's participants to be inspired by the Holy Spirit.
Hebrews 4:16 – Let us then approach God's throne of grace with confidence, so that we may receive mercy and find grace to help us in our time of need.
Some of the prayer opportunities at DMC:
Two prayer rooms for personal use- main level and second level, both handicapped accessible.  Both prayer rooms have helps for personal prayer.
Prayer ushers to pray with you concerning a praise or need of yours – confidential and caring (during our Sunday morning worship).
Prayer chain for prayer requests during the week (e-mail)
Group prayer during Sunday School – meets in the upstairs prayer room.
For more information about prayer opportunities e-mail our prayer minister, Sandy Landes.
Prayer
Our God, walking with you and giving you our attention throughout each day empties us and creates space for love. No matter where we are or what we are doing, we are known and loved by you. Because of your love, we find the will to forget ourselves and live in communion with you, others, and creation. On life's journey, as we lose ourselves, we create "heart space" so that you can fill and refill us again and again.
We thank you for the many times on our faith journey that we discover the spirit of Christ alive within us. We are grateful, too, that walking in your presence runs contrary to simply getting through the day.
Life is often like our journey with you, God. When we step out in trust, we commit to traveling through life with you — even when we do not know where we may go. Forgive us when we center reality on our own desires, forgetting that our lives are grounded in you.
You have been planning our itinerary from the beginning of time. We wait on you to see where you will take us. We pack our bags of faith and set out into the journey, which feels risky, uncertain, turbulent, and challenging, knowing that it may take us to familiar places or foreign territory. We acknowledge you as our God and all-knowing Guide.
We trust you for the journey, God. Amen